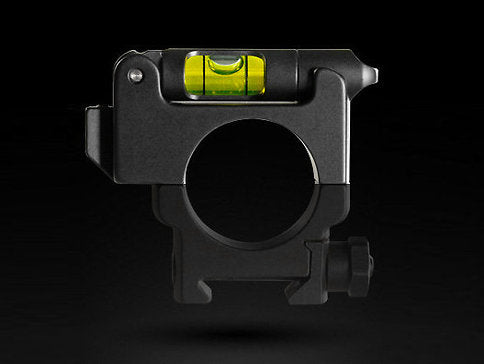 MARK4® LEUPOLD® 30MM ACCU/LEVEL™ Articulating, Fine-adjustable
LEVEL WHATEVER FIELD YOU'RE PLAYING ON. 
Flatline Ops custom fitting level for MARK4® Leupold® 30mm scope mounts*. Our MARK4® Adapter replaces the top bracket of your existing scope bracket for a custom seamless one-of-a-kind fit. A long-range shot has many factors to take into consideration to be sure you are on target, and our ACCU/LEVEL™ system aids in the correction of "cant error," giving you dead-on true vertical hold. The level also features a dual-position detent locator to make sure you are locked into place before taking that critical shot.
SOLID, DURABLE CONSTRUCTION
Each level is machined from advanced 6061-T6 aircraft aluminum and then black hard anodized to protect it from the extremes of the outdoors. The level is also designed to fit right- or left-handed shooters.
HIGH VISIBILITY
High-visibility fluorescent* green fluid level is easy to acquire before each shot. You also have the ability to make fine adjustments to the level in the open and closed positions.
Each ACCU/LEVEL™ comes complete with a Dovetail Accessory Lug for fast and easy addition of the Flatline Ops STRONG ARM™. If you have different size levels on multiple firearms, the STRONG ARM™ and ADI accessories are interchangeable with every ACCU/LEVEL™ size.
Quick and easy installation
Install without removing scope (in most cases)
Ships with instructions and all installation tools
MADE IN THE USA
* MARK4® level does not come with base rail mount. Level mounts directly to your existing MARK4® Leupold® 30MM scope mount.
**Fluid is not chemically enhanced with properties to actually glow or fluoresce in black out scenarios.
Fit Size: MARK4 LEUPOLD SCOPES (replaces top scope mount piece)
Dimensions: coming soon
Width: .625"
Material: 6061-T6 Aircraft Aluminum
Finish: Mil spec Type III Black Hard Anodized
Hardware: Stainless Steel
Level: High Visibility Fluorescent** green fluid
WARNING: Observe safe firearm handling practices at all times. Failure to do so may result in serious bodily injury or death. Flatline Ops Inc., shall not be responsible for injury, death, or property damage resulting from faulty installation, misuse, illegal use, or modification of this product.