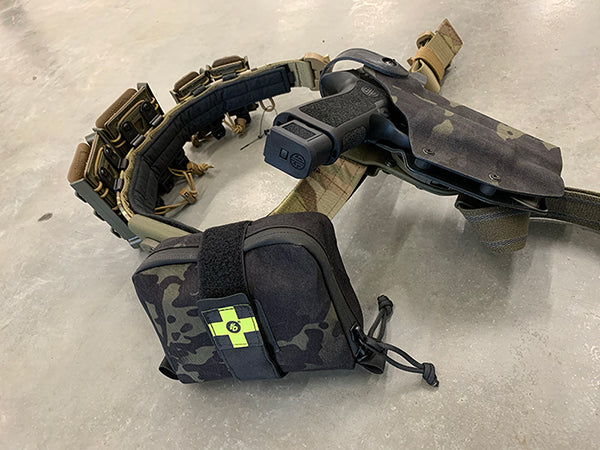 OH-SH*T-KIT™ ULTRALIGHT, WATERPROOF MEDICAL ESSENTIALS KIT
WHAT'S YOUR LIFE WORTH?... ARE YOU PREPARED? OUR LIGHTWEIGHT CRITICAL WOUND CARE AND PREVENTION KIT IS BUILT FOR HARSH CONDITIONS, OR ANY OUTING YOU THROW AT IT.
The OH-SH*T-KIT™ medical essentials kit is made for when sh*t goes sideways. With weight and extreme durability in mind, or for those who aim to carry a streamlined kit on any outing or adventure. In either scenario, wound prevention and early intervention are key so that your adventure isn't terminated prematurely.
The OH-SH*T-KIT™ is packed with over 50 thoughtfully selected essentials that address fundamentals of wound care as well as practical medications. A dedicated enclosure at the base allows fast access to your most important items. It also neatly encloses items with a water-resistant zipper and full waterproof XPAC material, and our signature Range-Strap™ that has an abundance of additional uses from splinting to slinging. 
CONTENTS:* Wound preparation and cleansing materials • Dressings and wound repair items from large abrasions and burns to small lacerations • Innovative supply of blister care items • Topical and oral medications • Durable tools for wound care, exposure, and material customization *See Content Breakout below for detailed contents.
CONTENTS BREAKOUT:
BANDAGES / QTY in Kit: • Chest Seal - 4 channel vented 1 ct • Quick Clot Chitosan Hemostatic Dressing 4"x4" 2 ct • Gauze sponges, 4 x 4 4 sponges • Coban Rolls 3" x 5 yards -- 2 unstretched meters per roll 1 yard • Curad Triple Antibiotic Ointment 2 packets • Curad Hydrocortisone Packets 2 packets • Alcohol prep pads 4 pads • Povidone Iodine prep pads 2 pads • Curad Fabric 3/4"x3" fabric Band-Aids 4 bandages • Curad Fabric 2"x4" in Band-Aids 4 bandages • Curad sterile oil emulsification dressings, 3"x8" 1 dressing • Loperamide 2 packets
MEDICATIONS / SUPPLIES: • Hibiclens Packets, 15 mL 1 packet • Germ-X Sanitizer Bottles, 2oz 1 bottle • Pre-cut KinesioTape 2 straps • Packing Supply Shipping labels, 8.5"x5.5" 1 label • SuperGlue 1 tube • Chewable Antacids, 2 chews/package 1 package • Acetaminophen, 2 tablets/package 1 package • Ibuprofen Packets 3 packages • Diphenhydramine 2 packages • 3M Steri strips, 1/4"x3", 3 strips/package 1 pack of 3 strips • Aspirin packets 1 package of 2 tabs • Refresh Eye drops 2 single use • Biohazard bag 1 bag • Nitrile Gloves, Size L 2 gloves • Reclosable Bags, 2.5"x3" 2 bags
TOOLS: Rapid Tourniquet 1 ct • Adson Forceps 1 ct • Micro Medic Sheers 1 ct • 50spf Sunscreen Stick 1 stick • Dehydrated Towels 1 Towel • Emergency Mylar Blankets 1 blanket
IMPORTANT SAFETY INFORMATION**:
**By purchasing the OH-SH*T-KIT™, you are agreeing to our Terms of Service. We reserve the right to replace items pictured/listed with others of equal value and utility. The optional items listed on this page require that the user have supervision from a licensed medical practitioner or have advanced medical credentials. By purchasing these items, the purchaser agrees that they have the appropriate level of training or supervision to use these items. Flatline Ops Inc is not responsible for adverse outcomes. 
By ordering the OH-SH*T-KIT™ Essentials Medical Kit you warrant that you acknowledge and have the required training and authorization to use the medical supplies contained within. Flaltine Ops Inc., assumes no liability for their misuse.
WEIGHT: 23 oz | DIMENSIONS (fully filled) 6.5" x 5" x 3.5" - Velcro and Range Strap allows for easy attachment on multiple platforms and conection points.

MATERIALS: Xpac VX1 Waterproof Fabric • 30D Nylon Ripstop • Water-resistant YKK zipper • Paracord • Hi-Abrasion Neoprene Coated Nylon.

Note: Flaltline Ops Inc., does not support the use of the Rage-Strap™ as a tourniquet. We support the use of the Rapid tourniquet where medically indicated, which is included in this kit. We especially support people getting trained to use them!
WARNING: Observe safe firearm handling practices at all times. Failure to do so may result in serious bodily injury or death. Flatline Ops Inc., shall not be responsible for injury, death, or property damage resulting from faulty installation, misuse, illegal use, or modification of this product.